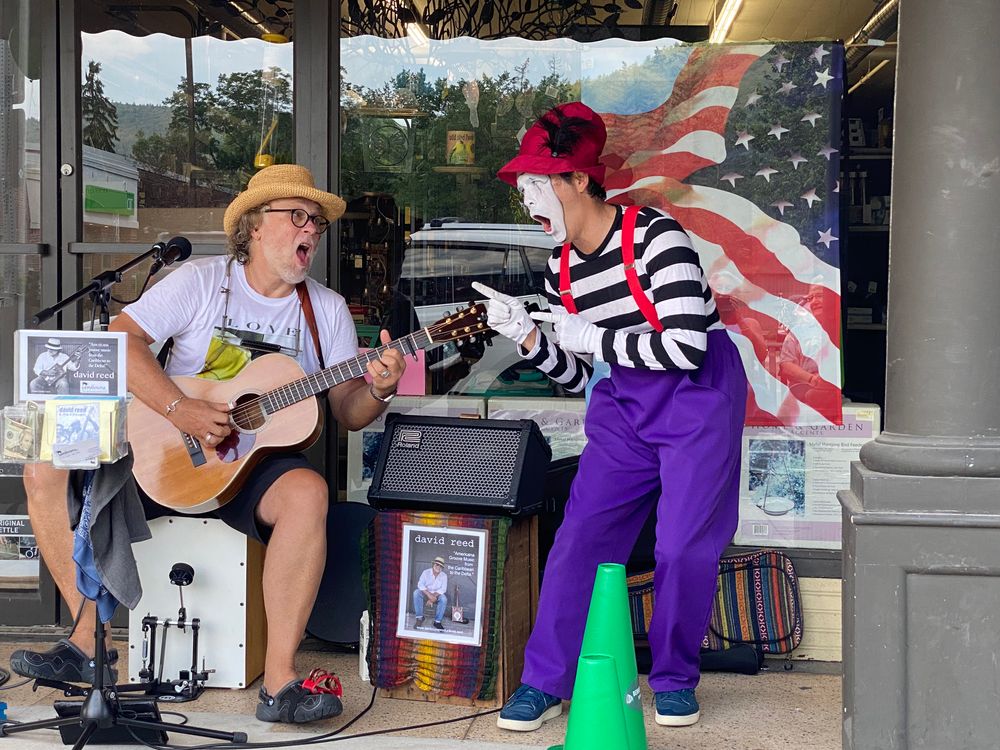 Press Reviews 
BerkshireBusk! Blog - Ari Jewell
"Reed's talent is most remarkable...mostly I feel like I'm watching a genius."
Oasis Bar & Grill at the Cornell Inn  - Kurt  Inderbitzen: Owner
"David Reed played at the Oasis last night. A world-class talent, sliding from one genre to another effortlessly. The audience absolutely loved him...we were packed from 5:10 til closing." 
The Barn Chronicles - Nick Keene 
"David Reed has been an anchor and tireless innovator in the Berkshires' Live Music scene for almost 4 decades. Originally one of the founding members of the legendary Max Creek band in 1971, he went on to form multiple musical incarnations including Tamboura, The Band of Introverts, TuTu Much and many others.  David has played extensively throughout North America, the Caribbean and Europe and his vibrant performance style reflects a heavy Caribbean influence as a well as a deep understanding and passion for American musicology."
Tradewinds - St. John, USVI  –Jaime Elliiot 
"Reed seamlessly transitions from reggae to blues to calypso to rock in his playing, bringing us along on a wonderful, quixotic musical journey." 
Corriere del Ticino  –Fernando Lavezzo 
"The band Tamboura, fronted by David Reed, played the most original performance of the day with its Caribbean-styled medley of Swing Low Sweet Chariot, I'll Fly Away and Amazing Grace." 
Giornale del Popolo  –Roberto Guidi 
"Tamboura es bella scopeta del festival." 
"Tamboura is the most beautiful surprise of the Festival." 
Berkshire Eagle  –Seth Rogovoy 
"They are a real musicians' band with a groove colored with tones and shades from around the world that always moves forward in an approach similar to the Grateful Dead, with whom Reed and Tamboura shares an easygoing sensibility." 
The Paper (Chatham, NY)  –Michael Krawitz 
". . . Tamboura gives just enough clever patter to create a genuine party atmosphere." 
Aliyah Marsh - Jamaican NYU exchange student 
"These guys could play anywhere in the Caribbean...and no one would dis them!"
The Chatham (NY) Courier  –Rory Block, blues musician & recording artist 
"David Reed is an extremely competent, polished and exciting musician.  We'll be hearing from him." 
Berkshire Eagle  –Seth Rogovoy 
"'Eclecticity' highlights Reed's deft acoustic guitar playing...he is a master of his craft." 
Taste Budd's Cafe Newsletter (Red Hook, NY)  –Dan Budd 
"David fills the room with delightful sounds and emits a passion for music that you can really feel!" 
Connecticut Magazine  –Ram Miles 
"David Reed and his band, Tamboura, delivers the passionate edge of rock with the primal pulse of worldbeat." 
Bennington (VT) Banner   
"Reed's plaintive vocals, when combined with his worldbeat leanings, makes for a slight similarity to artists David Byrne and Peter Gabriel."