WHAT'S A TUTU?  Well, it's a lot more than a ballerina dress!  In the West Indies, and specifically the Virgin Islands, the conch shell trumpet was, and still is, used as a marine signaling device.  It was named "tutu" by the indigenous Taino people and its onomatopoeic moniker still stands. Pretty cool, eh?  And . . .
TUTU MUCH is the little band with the BIG sound!  They're a Dynamic Duo that for over 25 years has paired singer/songwriter David Reed's emotionally charged vocals, lushly distinctive acoustic guitars/banjo/harmonicas/cigar box instruments & percussion together with groovemeister Sam "Samster" Earnshaw's remarkably jazzy drums & percussion to create an electracoustic duo that pulses with drivin' riddim and worldbeat groove
"Music as refreshing as a Caribbean breeze, funky as your favorite backstreet cafe and hot as a steaming' bowl of kallaloo! "   You're gonna love 'em!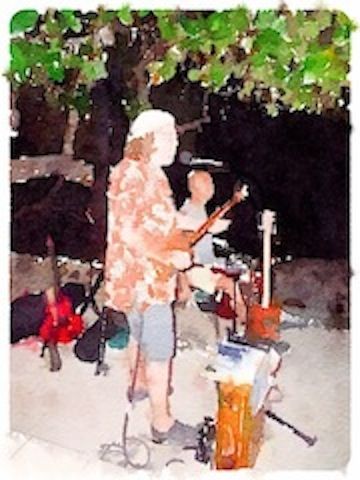 "Under the Seagrapes" @ Miss Lucy's Caribbean Restaurant, St. John, USVI