"REGGAEBLUESFUNKYTUNES&ORIGINALMUSICFORMIND&BODY!"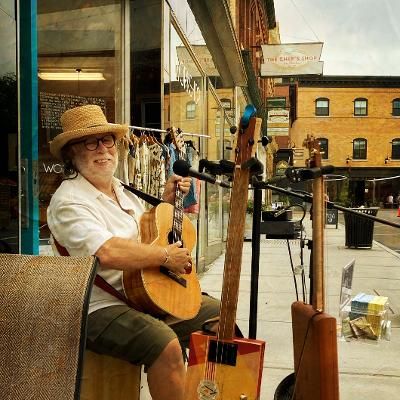 2023 - further along
"Takin' It to the Streets!"
Winter/Spring 2023:  Fallow Time.  While it's been quiet for me on the performance front lately, it has been somewhat of a relief after last season's jam-packed calendar of jammin'!  I've taken this 'fallow time' in St. Augustine to rejuvinate, learn some new songs and rework some of my older original material.  I also practice daily, which has bumped up my pickin' skills a few notches.  This pleases me, and I hope will please you as well.  I've tweaked the website, designed new logos and created new artwork for the T-Shirt collection which you can see in Dry Duck Trading Company on this website.  Seeking further inspiration, I've attended a few local songwriter-in-the-round shows where I've met several talented locals who have set high musical standards for the region.
I did actually get to play at an awesome Christmas fundraising show in December for the Lincolnville Museum, a vibrant and historical institution that celebrates civil rights stories, tragedies & triumphs and myriad contributions of Black Americans in St. Augustine and St. John's County, FL.  Check it out: https://www.lincolnvillemuseum.org.     I look forward to two more solo concerts…one a fundraiser benefiting the county Homeless Coalition in St. Augustine starring roasted oysters and me (https://homelesscoalitionstjohns.com), and I've been invited back again this year for a show at the Troll Music Venue in Venice, FL, a terrific listening room in southwest FL (https://www.trollmusic.com).  I've been asked to play for Pirate Night (how fitting!) at Paradiso Cafe & Bistro in Titusville, FL.  https://www.thecafeparadiso.com where the cajun food, spirits and buccaneers abide!  And, should the spirit move, I might again take it to the streets as a busker in the plaza.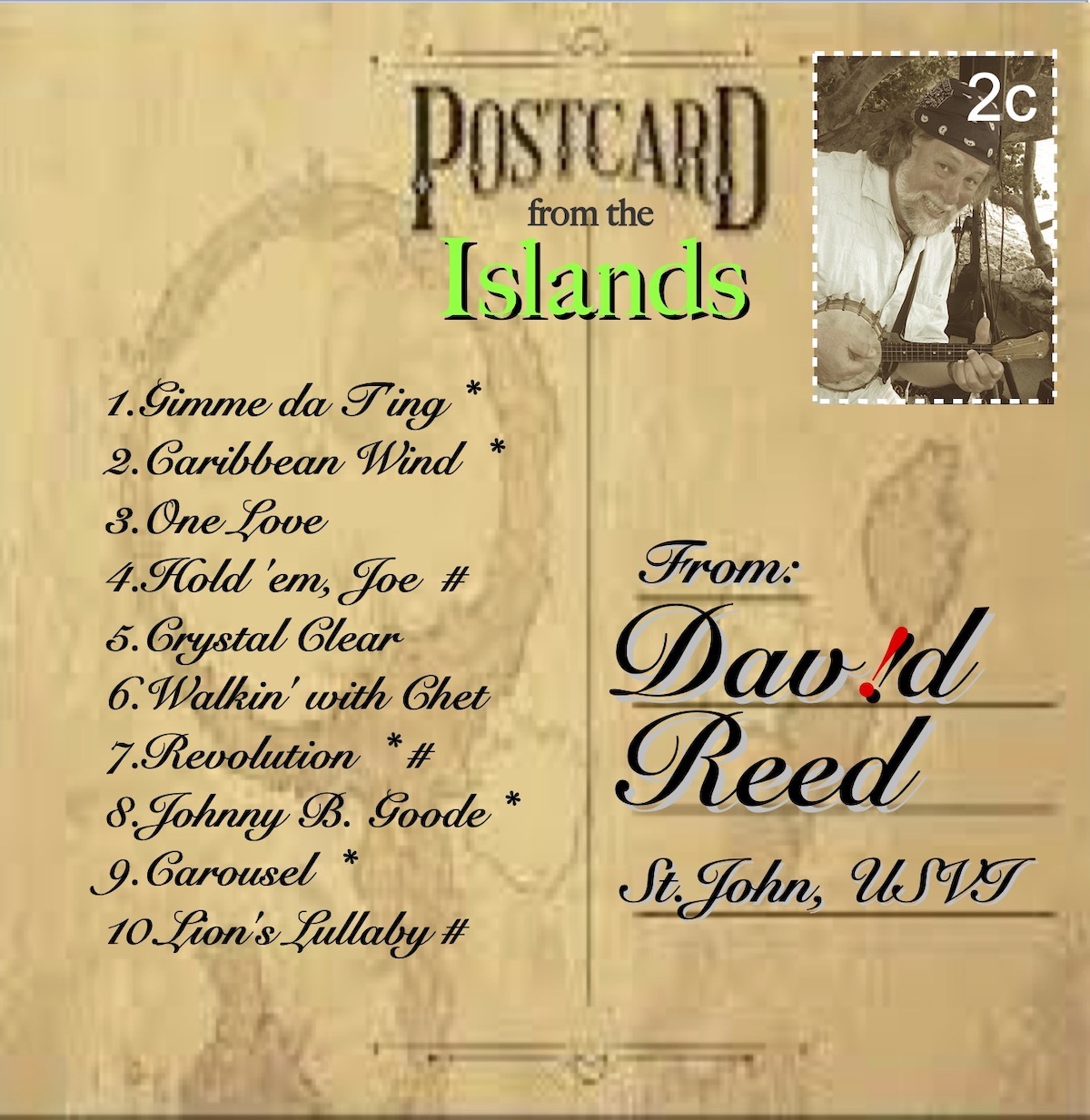 Hooray!  Working on a NEW recording of OLD t'ings - "Postcard from the Islands". I recently discovered a trove of recordings that were (mostly) made in the USVI, either recorded in my tiny, green Shackteau with what instruments could make or I had on hand; others were live performance board mixes recorded at Cinnamon Bay, Pastory Gardens, Aqua Bistro or Miss Lucy's - some solo, some with my drummer pal Sam Earnshaw and others with singer/flutist/steel drummer extraordinaire Mary Knysh. I've been spending several weeks winnowing through this collection, remixing and recording new, additional parts. I've chosen eleven. Soon come. 
My schedule for the upcoming summer and fall in the beautiful Berkshires is already blossoming!  It looks like it's going to be another banner year for winery and farm market shows with some busking on the side.  There looks like there may be an awesome new venue on the horizon for me as well, but I won't reveal it just yet…stay tuned to the Events section of this website!  And my newest recording, "Box Lunch" is doing well and will be available at all upcoming shows.
I got yet another new percussion toy to challenge my already seriously snapping synapses:  A miniature hi-hat cymbal rig will be added to my existing collection of footsy-powered cajon, tambourine and cabasa percussion instruments.  Ai, caramba!  I also added a 'psycho-knob' to a one-string diddley bow.  Watch out!!!
Hey, maybe this hasn't been such a 'fallow time' after all?!
 Summer/Fall 2022:  WHAT A SEASON!  I was insanely busy playing from two to five shows a week...and lovin' every minute!  Lots of new venues,  a few of my old reg'lars, included some of western New England's tastiest wineries and a whole lotta Farmers Markets.  Met lots of new folks, a pig and some ducks and was given some very tasty 'tips', including bread, corn, wine, veggies...and even a steak!  I also got floored by Wesley-the-dawg and lived to tell about it.  Did a lot of street busking for BerkshireBusk this season, too...tons o'fun!  I got to do a library presentation/concert about the history of cigar box guitars that introduced me to some teachers from CT who are interested in having me come to their school to make CBGs with the students...could be fun.  Could be.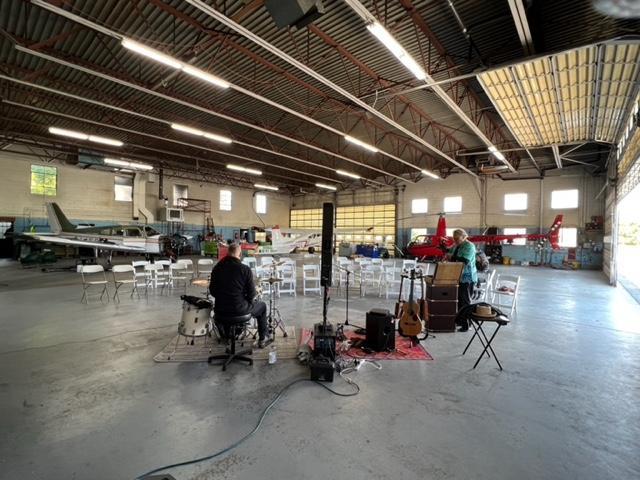 But probably the coolest highlight of my recent gigs was a house concert with my drummer Sam Earnshaw played inside an airplane hangar - complete with a couple of Cessnas and a bright red helicopter as backdrops!  Dispite the covernous room, the sound was truly awesome and the 80+ guests loved every minute, including a couple of spectacular Cessna takeoffs out on the runway as song intros!
Got a new toy the summer, too.  If you've ever seen my live show, you already know that I play percussion with my feet.  I'd been missing a maraca or cabasa shaker sound, because sometimes a tambourine is not what you need!  I found a foot-operated cabasa that adds just what I'd been missing.  I could have gotten a foot-operated cowbell, but lucky for all of us, I passed on that one!
I spent some time in my woodshop making some fine new cigar box guitars, including a sweet matched pair of Cohiba 3- and 6-stringers.  I have discovered the "psycho knob" - an on-board tone control that allows for five levels of sustain/distortion.  Holy Mother of Screamin' Mimi does this little devil add a new dimension to some of my CBGs!  This new generation of boxes with psycho-knobs is not for the feint of heart!  I got invited to perform and have a booth at the Sheffield (MA) Fair...got to amaze a lot of folks, and even sold a CBG, too!  Spent some time returning to the roots of CBG - diddley bow - and have begun to add this lot my show as well.  Primitive goodness!
Between all the shows and shop time, I got together with my pal Bruce Blair and we recorded a new EP CD, "Box Lunch".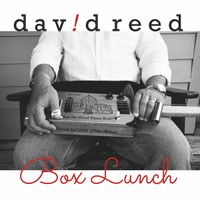 This 9-song little gem was recorded at home and is comprised of purely my homemade and 'found sound' instruments: 1, 3, 4 & 6-string CBGs, Rattle-Kap & pill bottle shakers, a gourd balafon, wooden spoons, a whiskey bottle, foot tambourine, wooden box drum and an eagle bone whistle.  Yeah, I sing on it, too.  Bruce backs me up on a few vocal tracks, but this solo project is designed to capture the vibe and sound of one of my live shows.  I think "Box Lunch" is a tasty treat you'll surely enjoy.  Available November 1.  Here's where you can go for a sample:  https://davidreed.hearnow.com
Late Fall, we'll migrate again to St. Augustine, FL where I hope to keep the momentum going!  I have a few potential opportunities to develop, and will surely keep y'all posted as they do!
 Winter/Spring 2022: The "Saint Augustine TONIGHT!" show aired as planned and went over very, very well...you can see my segment in the Vid-E-Ohs section on this website if you'd like.  I was asked to contribute to a new film score as well...we'll see what happens.
Several new photos you'll find interspersed within this site, were taken by esteemed photographic artist Lenny Foster in St. Augustine, FL.  Lenny hails from D.C. originally, but operated his own photo gallery in Taos, NM for twenty five years before relocating to STA.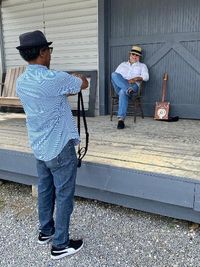 His evocative, inspirational works can be seen in his Gallery One Forty Four in STA, or on his website: www.galleryonefortyfour.com.  Take a peek!
After recently purchasing a really nice, small battery-powered amplifier I'd been thinking I just might have to "take it to the streets".   So, I got my St. Augustine city permit to busk in March, April & May and despite the old warning, "Don't play in the street", I'm takin' it to the streets anyway!  I played a rally fabulous concert venue in Venice, FL in April (Troll Music Concert Series) and had a full house!   I look forward to returning to DE to the Anchor Coffeehouse (for the third time!) on my southward migration in the Fall.
This Spring and Summer has bestowed upon me a myriad of winery and farmers' market shows such that I've launched the "Great Community Winery and Farmers' Market Tour - 2022"!  I just love these community-oriented shows...and folks seem to love me!  Who could ask for more?   Further 2022 plans, in addition to staying alive (I recovered from a mild case of Covid in May), include booking studio time for a new album of rootsy cigar box guitar songs and getting back into my workshop to make some new instruments and other gadgets.  Forward!
As always, THANK YOU  for your interest and support.
I hope to see you at a show real soon!
A Little History Lesson . . .
IN 2023, David Reed & Tamboura Productions celebrates 34 Years of creating always distinctive, diverse and high-quality artistic entertainment, recordings and handmade musical instruments for music lovers of all ages.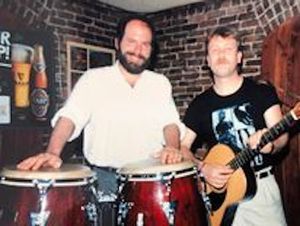 BEGINNING in 1989, I combined my artistic vision and multi-instrumental/vocal/songwriting talents with those of percussionist Armando Zanecchia's to create exotic (and quixotic!) interpretations of contemporary folkrock, blues and world-beat music.  The fledgling DuoTamboura (taking its "Tamboura" moniker from the Caribbean island of Dominica's "drum of the merengue") organically expanded - sometimes up to 7 members! - earning an endearing reputation for being the only Caribe-vibe dance band in the Berkshire Hills of western Massachusetts...and way beyond.   
MY ADVENTURES have taken me and my various musical permutations through time and space to festivals and venues throughout East Coast USA, the Caribbean, Italy, Switzerland, England...even Bulgaria!  Little did I know at the time what a journey I had embarked upon, gathering fantastic musicians and experiences along the way!   
I INVITE YOU to explore the pages of this website. Get acquainted by reading bios, sampling Audio & Video Clips, and viewing glimpses of my travels and adventures in the FotoGalleria.  Visit the Dry Duck Trading Company for my recordings - including the latest release, "Box Lunch" - hand-made shakers, cigar box instruments from Dr. Ea$y's Sonic Boxes and cigar box lighting from Dr. Ea$y's Man Cave Lighting Co.  Or, read some of my (mostly) light-hearted stories and essays in Story Hour.   
BETTER YET, come on out to a live show...I'd love to meet you! And I think you'll enjoy what you find under this here virtual Ducky Ol' Umbrella. I believe once you do, you'll come back for more! 

And to my family, fans and friends, THANK YOU for supporting David Reed, Tamboura Productions and Dry Duck Records over the past 34 years!   
Cheers!    
- DR