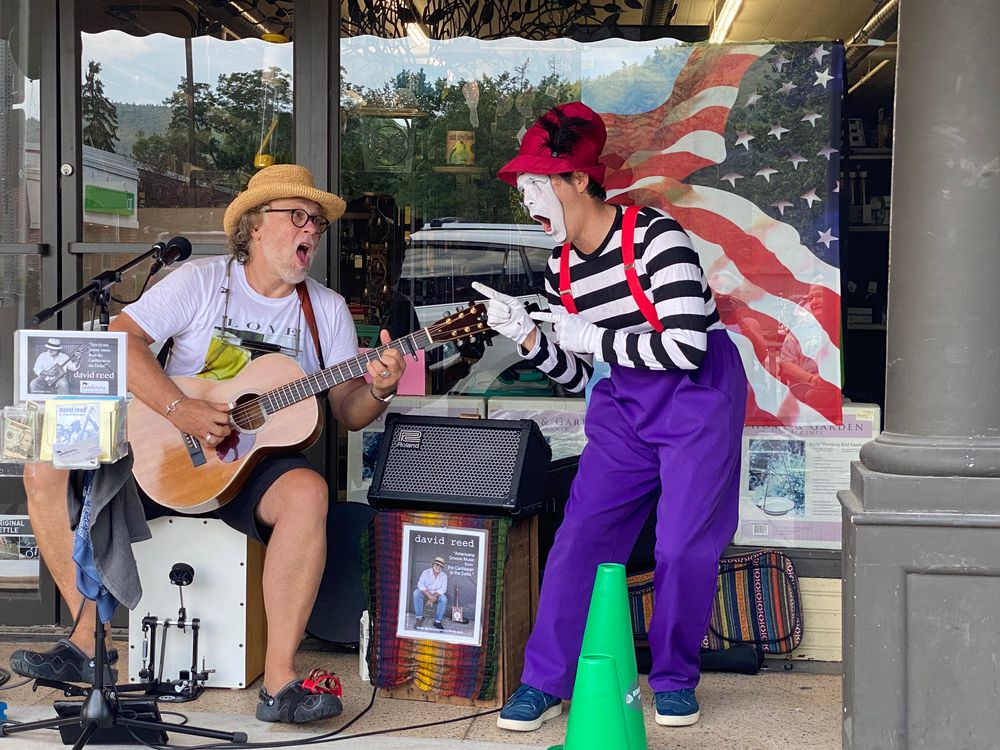 Press Reviews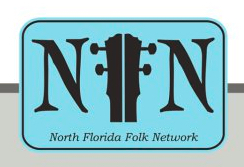 Member of North Florida Folk Network - 2023
North Florida Folk Network - Cindy Bear, President of NFFN, Jacksonville, FL
". . . nothing but positive feedback from everyone about your show at Arts in the Park. They just loved you!"
BerkshireBusk! Blog - Ari Jewell
"Reed's talent is most remarkable...mostly I feel like I'm watching a genius."
Melody's House Concerts - Chebeague Isle, ME & St. John, USVI
"For years David Reed performed here on St. John, US Virgin Islands and always brought joy to those fortunate enough to hear his Caribbean vibe and original compositions.  David has a natural rapport with audiences which appeals to all ages and ethnicities.  He has been popular here on St. John and in house concerts in Maine where he featured a variety of cigar box guitars which he created, accompanied by his foot-percussion instruments.  David is an accomplished guitarist, a lovely vocalist and a great storyteller—truly a professional performer!"
Vista Cove Social Committee - St. Augustine, FL
"David is simply THE best we've had play for us!  We want him to come back as often as he can"
L & A House Concerts - Great Barrington, MA
"Whoever is reading this, take note: David Reed is a performer extraordinaire who, if you are so lucky as to engage him, will delight you and your audience with the most remarkable, entertaining and lively music.
"I've had David do a house concert every year for the past 5 years and he just keeps getting better and better. His wonderful style is a unique mix of Americana, folk rock and Caribbean music. He's a fantastic musician who expertly plays a variety of instruments including his own cigar box guitars with which he accompanies his ever enjoyable singing.
"The audience loves him. His performances are mood altering for a foot tapping, feel good, upbeat time. Having him play is an opportunity that you shouldn't pass up. Snap him up if you can get him!"
Berkshire Eagle  –Seth Rogovoy, Pittsfield, MA 
"...he is a master of his craft." 
BerkshireBusk! Blog - Ari Jewell
"Reed's talent is most remarkable...mostly I feel like I'm watching a genius."
 Oasis Bar & Grill at the Cornell Inn  - Kurt  Inderbitzen: Owner
"David Reed played at the Oasis last night. A world-class talent, sliding from one genre to another effortlessly. The audience absolutely loved him...we were packed from 5:10 til closing." 
The Barn Chronicles - Nick Keene 
"David Reed has been an anchor and tireless innovator in the Berkshires' Live Music scene for almost 4 decades. Originally one of the founding members of the legendary Max Creek band in 1971, he went on to form multiple musical incarnations including Tamboura, The Band of Introverts, TuTu Much and many others.  David has played extensively throughout North America, the Caribbean and Europe and his vibrant performance style reflects a heavy Caribbean influence as a well as a deep understanding and passion for American musicology."
Tradewinds - St. John, USVI  –Jaime Elliiot 
"Reed seamlessly transitions from reggae to blues to calypso to rock in his playing, bringing us along on a wonderful, quixotic musical journey." 
Corriere del Ticino  –Fernando Lavezzo, Ticino, Switzerland 
"The band Tamboura, fronted by David Reed, played the most original performance of the day with its Caribbean-styled medley of Swing Low Sweet Chariot, I'll Fly Away and Amazing Grace." 
 Giornale del Popolo  –Roberto Guidi, Lugano, Switzerland 
"Tamboura es bella scopeta del festival." 
"Tamboura is the beautiful surprise of the Festival." 
 The Paper (Chatham, NY)  –Michael Krawitz 
". . . David Reed and his band give just enough clever patter to create a genuine party atmosphere." 
 Aliyah Marsh - Jamaican NYU exchange student 
"He could play anywhere in the Caribbean...and no one would dis him!"
 The Chatham (NY) Courier  –Rory Block, blues musician & recording artist 
"David Reed is an extremely competent, polished and exciting musician.  We'll be hearing from him." 
 Taste Budd's Cafe Newsletter (Red Hook, NY)  –Dan Budd 
"David fills the room with delightful sounds and emits a passion for music that you can really feel!" 
 Connecticut Magazine  – Ram Miles 
"Reed delivers the passionate edge of rock with the primal pulse of worldbeat." 
 Bennington (VT) Banner   
"Reed's plaintive vocals, when combined with his worldbeat leanings, makes for a slight similarity to artists David Byrne and Peter Gabriel."