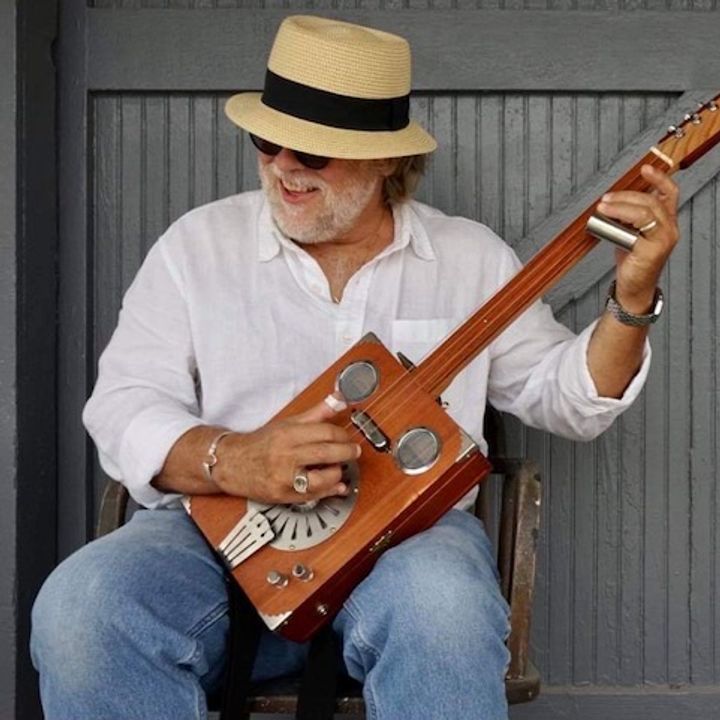 david reed | solo
"An Analog Man in a Digital World"
I've been told that I am cut from the same stylistic cloth as Jorma Kaukonen, Taj Mahal, Mississippi John Hurt, Joseph Spence and the Davids Lindley & Bromberg...and that the souls of old Delta & Piedmond bluesmen and West Indian calypsonians visit me regularly.
 I'm not sure of any of that, but I do know this: As a multi-instrumentalist/singer-songwriter/recording artist I've enjoyed bringing smiles to faces and beats to the feet of audiences young and old for most of my life.  Equally at home on festival & coffeehouse stages, restaurant & house concert settings - or as a complement to dinner parties, Bar-B-Q's or weddings - I bring a sunny Caribe vibe to my folkrock, ragtime jazz and original Americana repertoire.  
An accomplished finger-style & slide guitarist and seasoned performer, I also build wonderfully unique and quirky cigar box guitars under the aegis of "Dr. Easy's Sonic Boxes" from which I deliver my personal brand of tasty, slip-slidin' juke joint countryblues & smokehouse rock.  
 * Five Solo Recordings:  Try It Again (1988), Eclecticity (1993), Asleep at the Keel  (2007) and Box Lunch (2022).  TuTu Much Is Never Enuff! (1995) with duo TuTu Much, and Gypsy Davy (2019) with trio The Introv3rts.  All on the Dry Duck Record label, of course!
* Session & Side Musician:  guitar, cigar box guitars, percussion, bass, trumpet, banjo, vocals
* Festivals, Tours & House Concerts: Switzerland (Blues to Bop Festival), Italy, England, US & British Virgin Islands and throughout East Coast US.  First American to play the Bansko (Bulgaria) International Jazz & World Music Festival. In-Concert with Hot Tuna, Max, Creek, New Riders, Jesse Winchester, Third World, David Bromberg, Entrain, Rory Block, Ellis Paul, Brooks Williams, Utah Phillips, Bernice Lewis & Bobby Sweet, The Ink Spots . . . and others.
* Music Educator: Guest Arts & Technology lecturer at New York University; Finger-style guitar instructor; Library lecture/demonstrations about the "History, Art & Construction of Cigar Box Instruments"; Classroom music teacher/band director
* Author: Numerous short stories, newspaper & magazine music reviewer and author of "Getting Started with the 3-String Cigar Box Slide Guitar - Vol. 1"  
* Press: The International Cigar Box Review magazine (2018), Acoustic Guitar magazine (2006), The Artful Mind magazine (multiple years), numerous print media stories and reviews in the US, Caribbean and Europe.  Radio and TV spots in the US, Swiss and Bulgarian broadcast media.
* Music Videos: calypso song, Digby, made by pioneering Oscar and Grammy award winning filmmaker Doug Trumbull & MAGI Studios.  Numerous 
self-produced YouTube videos by the Lost Hat Productions studio.
* Founder and original guitarist (1970-76) of nationally acclaimed and highly-influential jam band Max Creek who continue to record and tour nationally to this day.
As always, THANK YOU for your interest and support over the years and I hope I can play for YOU soon!
"

Reed is an extremely competent, polished and exciting musician. We'll be hearing from him." - Rory Block, Blues musician and recording artist
— Chatham (NY) Courier
"

'Eclecticity' highlights Reed's deft acoustic guitar playing...he is a master of his craft." - Seth Rogovoy
— The Berkshire (MA) Eagle
"

Reed's talent is most remarkable...mostly I feel like I'm watching a genius!" - Ari Jewell
— BerkshireBusk! (Great Barrington, MA)
"

Reed seamlessly transitions from reggae to blues to calypso to rock in his playing, bringing us along on a wonderful, quixotic musical journey." - Jaime Elliot
— St. John USVI Tradewinds
"

Your music stopped me in my tracks! I just had to go see where this wonderful sound was coming from!" - Jeff B. - New York, NY - July, 2022
"

David Reed played at the Oasis last night. A world-class talent, sliding from one genre to another effortlessly. The audience absolutely loved him...we were packed til closing." - Kurt Inderbitzen: Owner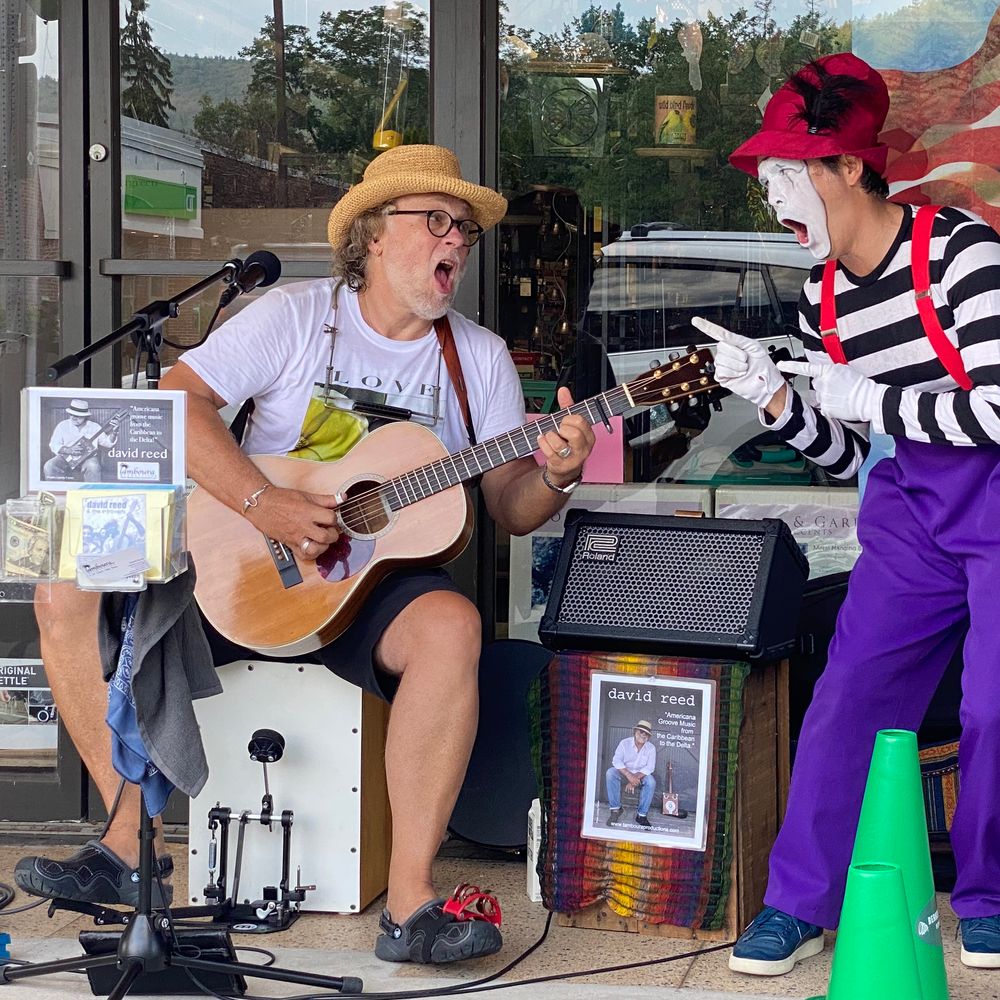 Mime & Me
On the Street with BerkBusk