"Americana Groove Music from the Caribbean to the Delta"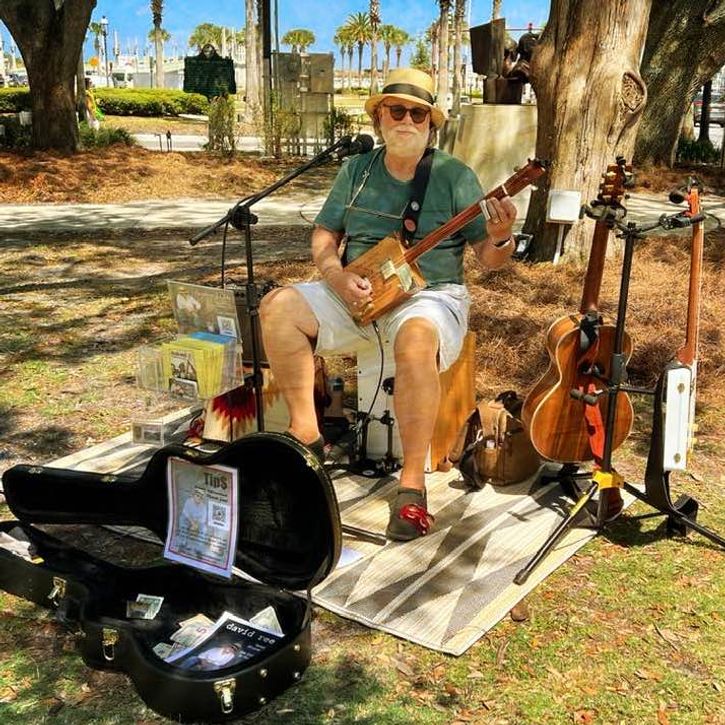 2022 - further along
"The Pandammit & Other Stuff"
Winter/Spring 2022:  Well now, here we go again.  It's looking like Covid's cousin Omicron could put the damper on my hopes for a lively performance schedule for the immediate future.   I am going to be cautious and take a 'wait 'n see' attitude about booking indoor public dates.  That said, I did procure a slot on the local "St. Augustine Tonight" TV show to be recorded in March...hope we can pull it off without any plague standing in the way.  I'd surely love to fill this empty chair with my performing some live music for YOU!  
!!! UPDATE !!!  The "Saint Augustine TONIGHT!" show aired as planned and went over very, very well...you can see my segment in the Vid-E-Ohs section on this website if you'd like.  I was asked to contribute to a new film score as well...we'll see what happens.
Several new photos you'll find interspersed within this site, were taken by esteemed photographic artist Lenny Foster in St. Augustine, FL.  Lenny hails from D.C. originally, but operated his own photo gallery in Taos, NM for twenty five years before relocating to STA.   His evocative, inspirational works can be seen in his Gallery One Forty Four in STA, or on his website: www.galleryonefortyfour.com.  Take a peek!
After recently purchasing a really nice, small battery-powered amplifier I'd been thinking I just might have to "take it to the streets".  Yup, after last summer's successful outdoor busking adventures, I thought that this might be a fun and more safe way to keep up the chops and make a bit of coin while sharing what I love...playing my music for folks.  So, I got my St. Augustine city permit to busk in March, April and May and I'm takin' it to the streets!  I played a rally fabulous concert venue in Venice, FL in April (Troll Music Concert Series) and had a full house!   I look forward to returning to DE to the Anchor Coffeehouse (for the third time!) on my southward migration in the Fall.
This Spring and Summer has bestowed upon me a myriad of winery and farmers' market shows such that I've launched the "Great Community Winery and Farmers' Market Tour - 2022"!  I just love these community-oriented shows...and folks seem to love me!  Who could ask for more?   Further 2022 plans, in addition to staying alive (I recovered from a mild case of Covid in May), include booking studio time for a new album of rootsy cigar box guitar songs and getting back into my workshop to make some new instruments and other gadgets.  Forward!
As always, THANK YOU  for your interest and support.
I hope to see you at a show real soon!
A Little History Lesson . . .
IN 2022, David Reed & Tamboura Productions celebrates 33 Years of creating always distinctive, diverse and high-quality artistic entertainment, recordings and handmade musical instruments for music lovers of all ages.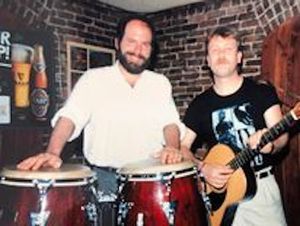 BEGINNING in 1989, I combined my artistic vision and multi-instrumental/vocal/songwriting talents with those of percussionist Armando Zanecchia's to create exotic (and quixotic!) interpretations of contemporary folkrock, blues and world-beat music.  The fledgling DuoTamboura (taking its "Tamboura" moniker from the Caribbean island of Dominica's "drum of the merengue") organically expanded - sometimes up to 7 members! - earning an endearing reputation for being the only Caribe-vibe dance band in the Berkshire Hills of western Massachusetts...and way beyond.   
MY ADVENTURES have taken me and my various musical permutations through time and space to festivals and venues throughout East Coast USA, the Caribbean, Italy, Switzerland, England...even Bulgaria!  Little did I know at the time what a journey I had embarked upon, gathering fantastic musicians and experiences along the way!   
I INVITE YOU to explore the pages of this website. Get acquainted by reading bios, sampling Audio & Video Clips, and viewing glimpses of my travels and adventures in the FotoGalleria.  Visit the Dry Duck Trading Company for my recordings - including the latest release, "Gypsy Davy" - hand-made shakers, cigar box instruments from Dr. Ea$y's Sonic Boxes and cigar box lighting from Dr. Ea$y's Man Cave Lighting Co.  Or, read some of my (mostly) light-hearted stories and essays in Story Hour.   
BETTER YET, come on out to a live show...I'd love to meet you! And I think you'll enjoy what you find under this here virtual Ducky Ol' Umbrella. I believe once you do, you'll come back for more! 

And to my family, fans and friends, THANK YOU for supporting David Reed, Tamboura Productions and Dry Duck Records over the past 32 years!   
Cheers!    
- DR