"Surely it's sad, sometimes you must choose,
The friends you must pick, the friends you gotta lose…"
-"Over My Shoulder" by John Coster


Somebody bashed into my car in a parking lot. They left a sizeable wound on my poor Honda Element's front fender and cowardly drove away. No one saw it happen, and if they did, they weren't telling. I had a mile-high deductible on my insurance policy and even though this heavy-metal parking lot boinking wasn't my fault, my insurance rates would go up. So, to fix or not to fix? Like most of us, these times left me a bit short of cash, so I really struggled with this question for a few weeks before I decided to keep true to one of my operating principles, wisely taught to me by my father: "Good tools are good friends. Get the best you can and take care of them." My boxy Honda "Elephant" was a good tool. It held all my guitars and music gear; it towed my little sailboat; it got good mileage and was pretty comfortable on the long haul.  It did what I needed it to do and had never let me down. That qualified it as a pretty good friend, I suppose.

So off I went in search of a body shop to do the repairs. I found that rates can vary wildly, but they all came in just shy of my mile-high deductible, so if I wanted the work to be done I was going to pay – out the nose! I sought advice from my mechanic-guru and he sent me to a decrepit looking shop in my Berkshire hometown. I'd passed by and ignored it for years. Known for its restoration of classic British and German sports cars, I'd never even given it a thought – the Honda wasn't particularly sporty or classic - well, maybe a little, in its own way! It turned out that this visit made my day!

Pulling into the lot, I had to squeeze my Honda into a spot that wasn't already occupied by some foreign relic caught between random states of decomposition and restoration. I was met by a quirky little fellow sporting a bristly moustache, a brimless cap and a paper air-filter mask upon his head. He had a ready smile and an eagerness to help. He looked at my wounded fender, clucked his tongue expressing remorse and compassion for my plight.
"Yep, I can fix that," he said reassuringly and then proceeded to explain to me in exact, specific detail what and how he would do so. Then he asked, "You want some numbers then?" Well, sure. "Follow me to my office. I keep it hidden well in the back", he laughed.

He opened a creaking wooden door and in we went to a cavernous room whose great size was not at all evident from the outside. Parked inside was an assortment of automotive gems, many in nearly road-ready condition, awaiting their final touches: an interior carpet here, "correct wheels" there, "needs a fuel pump in that one", "just finished the leather seats in this beaut", and on and on. A shiny, jet-black '62 Corvette convertible was neighborly with a British Racing Green, mid-60s Austin-Healey 3000. A glistening white '59 Triumph TR-3 casually faced a champagne-colored '63 Chevy Malibu as if in conversation. A 1940-something WWII Jeep sat stripped to its frame high up on a lift and below that was what appeared to be a classic Porsche, resting under a canvas cover awaiting new paint. "There's more over there, too, but let's get you those numbers."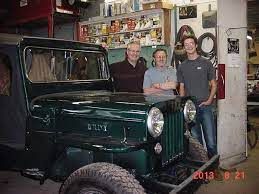 Al (center) and his crew with a WW2 Willys Restoration

I followed "the name's Al" into a dingy, cramped, windowless back office where the walls were covered with faded photos and framed jig-saw puzzle pictures of classic and hot rod cars.  A shelf of classic car books, parts catalogs and ancient automotive knick-knacks and chotchkes of every stripe stood stalwartly against the back wall. His diminutive wife sat behind a dusty, ancient computer and a crowded desk littered with a confetti of bills, invoices and assorted flyers.
"She does the numbers," laughed Al, pointing at the little lady punching info into the humming computer. "I don't run that thing!"
What followed took nearly two hours and amazed and amused me for the rest of the day.

Leaning against the rickety shelf lined with yellowing copies of Custom Car and Hot Rod magazines stood a beautiful old, white Gretsch electric guitar.  It had a gold-plated Bigsby tailpiece and nearly as many knobs and dials as one of his classic Austin-Healeys. "Yep, I bought that from a guy back in the early 70s. It's a '67 Gretsch Viking. Quite a guitar, but not as popular as the Country Gentleman, you know, Chet's guitar.  Or the White Falcon. Not a big seller so they didn't make too many of 'em. I'm doing a set-up on it so I can eBay it. Or, rather," Al pointed at his number-crunching wife, "I should say 'She'll eBay it.' I don't run that thing."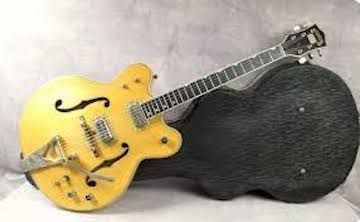 1967 Gretsch Viking

Al was a GUITAR FREAK!

Turns out that Al - "I'm almost 70 years-old ya know!" - had been playing guitar and collecting instruments since he was 16. His wife told me with a mixture of both pride and frustration that he once had a "houseful" of guitars, banjos, mandolins, fiddles, dobros, amplifiers "and other such junk" that over the years he'd periodically sold, traded or parsed out to friends and family when he needed some cash - or another instrument!  He learned to play guitar "by sitting around with my oldest brother and some the ol' timers" where he "caught that music bug".  And was introduced to "two fingers of Grand Marnier" – which he still occasionally enjoys – and "that 'Wildwood Flower', the first, and most beautiful song I ever learned."
He told me about his guitar-playing heroes like Chet, Jimmy Reed, Merle Travis, the Carter Family and "even that young feller Glen Campbell can pick some, too!"  He recalled his first guitar.  "Maybe it was an old Harmony" and how he wanted to play all the old country songs "just using my fingers, you understand, not a plectman". He still won't use a 'plectman', which I eventually deduced meant plectrum, or flatpick.
"I like makin' chords, but I don't always know what they are.," Al laughed.  "Never did play that lead guitar stuff much, but I sure do like the way those Nashville fellers do it." Al paused a moment and then thoughtfully advised me, "You got to play with other people now and again. Otherwise yer just practicing yer same mistakes over and over in yer living room."

He once built a fretless banjo and collected "maybe 45 or 50 old banjers" that he sold over the years. "I fool with the fiddle now and again, but it drives her nuts. I'm not too good on that", he chuckled, pointing again at his wife who distractedly continued to research my 'numbers'.  He told me how he learned to do instrument set-ups and that he was "pretty good at it" but wouldn't do it for anybody else except his younger brother who was "still a pretty good picker but his wife don't let him go out at it anymore." Al's wife scowled up at him from her computer as he revealed this little tid-bit of private family life.

I heard about old, local musicians who've come and gone and what he learned from them. I was taken on a memory-lane tour of the old joints and roadhouses that used to exist within a 20-mile radius of his South Berkshire home and was treated to stories of chicken-wire stages and "some pretty wild rides home" after probably more than just two fingers of some elixir!
"If you was a good picker, you could make yerself a pretty good living if you wanted. You could find some joint to play 4 or 5 nights a week, sometimes more, without having to go too far. This was in the late 40s, all through the 60s." Al rattled off the names of several now-defunct clubs and roadhouses, occasionally interrupted by his wife who remembered a few of her own.  
How times have changed.  "I tell you what," he lamented, shaking his head as he removed the filter mask and cap to reveal a full head of thick, salt 'n pepper hair, "it was them liquor laws that changed the music business around here. You can't but sniff a bar rag now and you got yerself a DUI!"  Al looked down at the floor, lost in memory.

He looks up and continued to tell me about the guitars that have passed through his life and how he regretted letting many of them go. "I had a beautiful '63 Gibson Hummingbird...surely you know what that guitar is?" I did. "Sold it to some local guy, a collector. You know, sometimes a man needs the cash. Maybe you seen it?" I hadn't. "I had an old 70s Yamaha. Bought it from some guy in the 80s.  Real cheap it was. It was no Hummingbird, but what a sound! Played smooth 'n easy. Sold that, too. Got another one now, but it ain't as good." The old fellow began to get a bit sad. "You know, sometimes those ol' guitars can get to be pretty good friends."

He asked me about my music and guitars. His reminiscing got me to thinking of the 6-string friends that have passed through my life, many of whom I wished I'd not let go. So I told him about . . .

When I was 16, just like Al, I became infatuated with the guitar. I loved the British Invasion bands, Dylan and the Greenwich Village folk scene.  I noticed that girls seemed to like the guitar, too! My little sister got a plastic Sears & Roebuck "Wing-Ding"  guitar for Christmas. She had no interest in it, but I did. It had string action on it like a cheese cutter and it made my fingers bleed. But I incessantly practiced Dylan's "Like A Rolling Stone" despite incurring open wounds.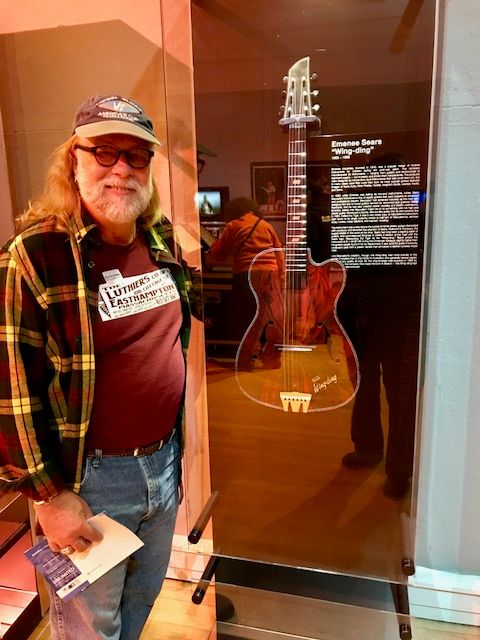 DR and the plastic Sears & Roebuck 'Wing Ding' Guitar

When I was 17, I won a music competition – playing the trumpet! – and the prize was a $100 gift certificate to a local music store. I bought a brand new mahogany/spruce Yamaha FG-15…a real guitar! I now could play more than four chords without a blood sacrifice. I played that guitar for years, but after joining a few different rock bands and discovering that the Yamaha could not be heard over the din of drums and electric guitars, even if I taped an el cheapo Radio Shack microphone into it, I decided to sell it. I found no buyers, but there was a guy in my college class who had a pre-CBS Fender BandMaster amplifier he no longer wanted and was willing to trade for my Yamaha. I did the deal. Now I had an amp, but no guitar.  I still have the BandMaster head, but sold the speakers long ago - wish I still had 'em!
I fantasized whether somehow my old Yamaha had wound up in Al's hands. Hard to tell. But years later, I attended a museum exhibit on "The History of the Guitar" and what should be there, all cased in glass, but a Sears "Wing-Ding" guitar.  (photo above)

Enter another friend who I never should have chosen to let go. Having lined up some seedy bar gigs in my new band, Max Creek, but not having a decent guitar.  A late 60s sunburst Aria electric didn't have the sound I was looking for, either.   Then I noticed an ad pinned to the bulletin board in my college student union: "For Sale. 1963 Gibson J-160E. Like new. $200". Holy moly, this was the same acoustic/electric guitar the friggin' Beatles were playing!! I borrowed the money and got the guitar. I played it for a few years, but I never really liked its acoustic sound (sort of dull) and its harsh, amplified tone fed back easily at rock 'n roll volume. I needed something that could crank it out.  Like a dummy I sold it for $150. It's worth way more than that now!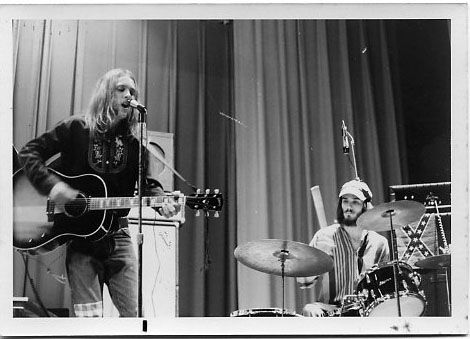 The Gibson J-160E with drummer Bob Gosselin & Max Creek, circa 1973 (Note the BandMaster amp!)
Welcome my first real electric guitar: a brand new, blond maple 1970 Guild Starfire-IV. It cost around $450 and I got it at a hippie music store run by a commune in Turners Falls, MA in the same year it was made. This was a sweet guitar. It was loud. It was dependable. But it really was a jazz guitar and did not have the loud 'acoustic' sound I wanted. Resonating with mild regret from the sale of the Gibson, I decided not to sell the Starfire-IV (just in case...) and it languished in my closet, lonely and neglected, for 25 years. After all that time I realized that I would likely not be using it.  Someone should love and appreciate it. I sold it to a young guy who was entering Boston's Berklee music school to study jazz guitar. A perfect home for my old friend! Still, I wouldn't mind having that ax today.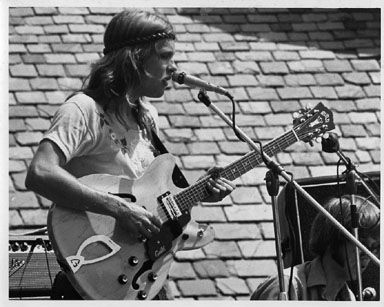 The Starfire-IV with pianist Mark Mercier & Max Creek, circa 1974
Around the same time as I purchased the Starfire-IV, I picked up a new 1969 Guild D-44 dreadnought acoustic guitar from the same hippie shop in Turners Falls. Paid around $400 for it. I'd wanted a Martin, but couldn't come up with the extra $300 required to own one of those so I settled on the Guild. I have never regretted this and it remains in my current 'arsenal' as my go-to guitar for alternate tunings and slide playing. Over the years it's had multiple fret jobs, a neck reset and countless pick-up configurations. It has aged gracefully and well with its tone maturing warm and full. Other than my grandmother's 1892 Coles Eclipse banjo which has been in my family since the late 19th century, the D-44 remains my oldest stringed friend.

Sometime in the mid-80s, I really got hooked on finger-style guitar and wanted an instrument that complemented this style and sound. The D-44 was loud and did the job, but when I bumped into a early 20th century oak-bodied Lyon & Healey Washburn parlor guitar in the Fretted Instrument Workshop in Amherst, MA, I figured this was the 'genuine article' for the kind of period old-time, honky-tonk blues and rags that I was learning. Bluntly stated, the guitar just sucked! Though tough as a tank, it sounded like one. I tried to befriend it for a couple of years and just couldn't. So, back to Fretted Instrument Workshop I went, Washburn in hand.

Hanging on their wall amongst almost 100 fine guitars, my eye went right to her - a pretty, mid- 60s Martin 00-16 New Yorker and I wanted her. Bad. The owner was reluctantly willing to trade back the oak Washburn. I guess he hadn't missed it much!  I scraped up the remaining cash necessary to make the little Martin mine by selling my flugelhorn and some unused sound equipment. Soon, I was happily plinking away, further developing my finger-picking chops.
In time, I discovered that this sweet-voiced, delicately refined little lady was going to break my heart...she did NOT like to play rough. Nor did she like to be capoed, or as Al would have put it, "Have the 'cheater' put to 'er."  If I dug into her strings, she barked harshly at me. Capoing was rewarded with serious intonation problems requiring much tuner twiddling. So it was into the closet reluctantly with little Miss Martin, joining the somnolent Guild Starfire-IV. I eventually sold her to a woman who was planning to play her in a Klezmer band, of all things. I'm embarrassed to mention the selling price – let's just say I took quite a hit. I'd enjoy having her back in my life. I think.

And again the D-44 was called back on the front line for active duty.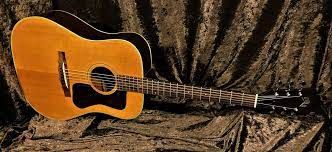 1969 Guild D-44

I have a lot of other guitar friends with whom I fraternize regularly now. I try to live up to my dad's advice to "get the best tool you can afford and take care of them". I've learned, too, that like people-type friends, no one guitar is going to meet all my needs, wants and desires. Each, like the people in my life, has their strengths and weaknesses, assets and detriments, pleasures and pains. Each has its own voice and helps me to tell stories in its own way. And true to the words of Coster's song, it is sad that sometimes we gotta choose the friends we must pick and the friends we must lose. I try to think about this more deeply now when faced with this choice. Maybe there will be fewer regrets?

Al wants me to come back to the shop and bring my guitar so we can pick a little. I think I will. Oh, yeah. I got the 'numbers' - several hundred less than the competition. Do you suppose I got the "Picker's Price"?