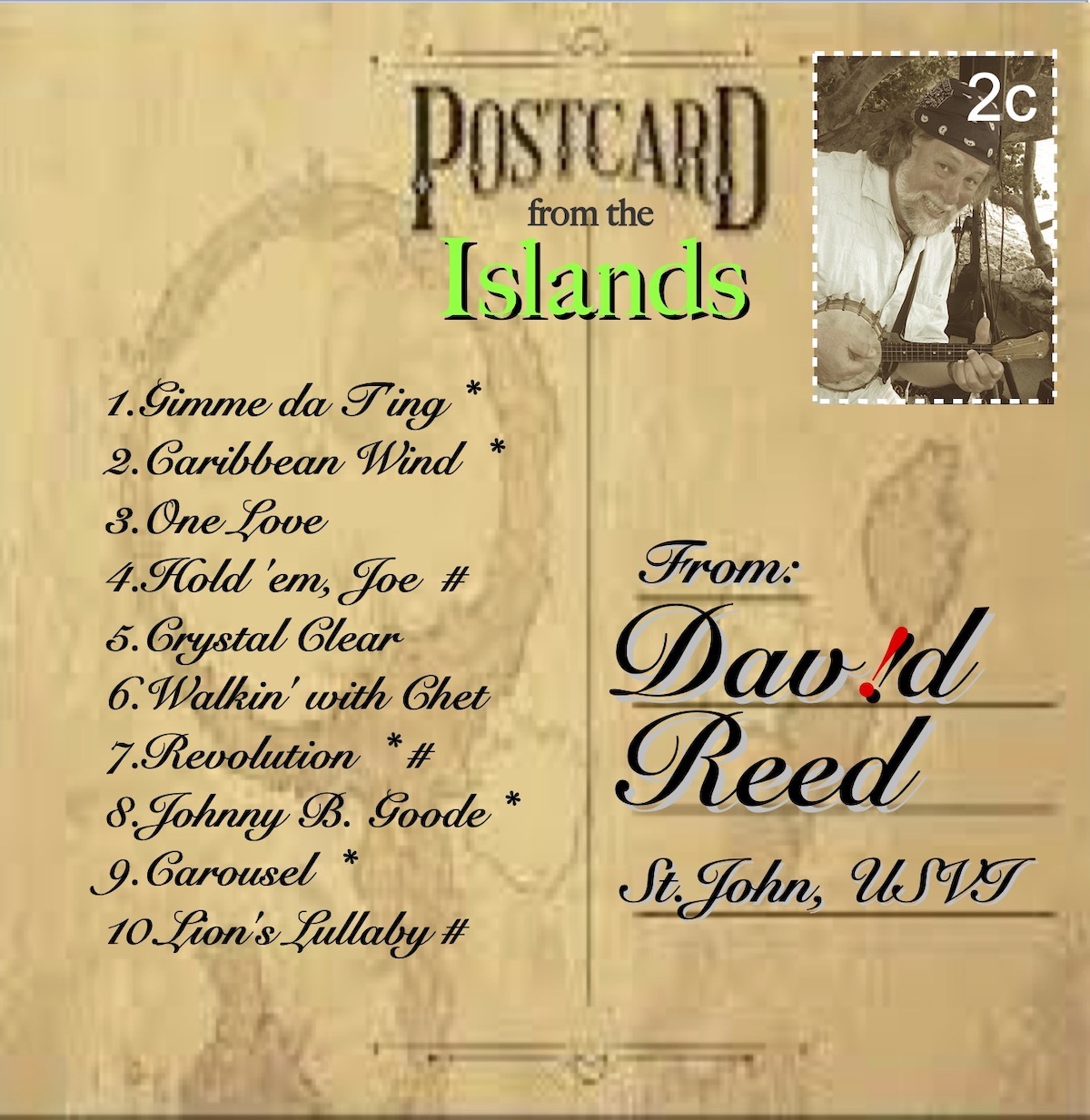 Postcard from the Islands
https://davidreed.hearnow.com/postcard-from-the-islands
While in the midst of this winter's performance dry spell I found myself suffering from an acute withdrawal from creative flow. I felt somewhat lost, tired, discouraged - like I was running on fumes and going nowhere fast. These blank, dry periods have visited me throughout my years as an artist; every time they would engulf me I'd go into a very unpleasant funk. I was no fun at all. Initially, I would think there was something really wrong with me, perhaps something like a clinical depression had come knocking on my psyche's door. Eventually something wonderful would always intervene. Long dormant, I'd blossom and plunge back into my stream of creativity. Over time I learned to trust that rather than barren, depressive dry spells, these were necessary fallow periods. All good farmers know that it is necessary for fields to go fallow - to rest and rejuvenate - every few years in order to replenish the soil and provide a good yield. My fallow periods actually were times when, unconsciously to me, I was percolating and replenishing my creative energy, and I would more often than not be surprised as to how it would manifest. I knew something exciting would, as they say in the islands, "Soon come!" It did.
While rooting around in my extensive archive of recorded music I was surprised to discover a trove of songs I'd laid down from long ago, some as early as 2007. Many were recorded on the island of St. John in the US Virgin Islands. Some were soundboard mixes taken from live shows, often accompanied by my occasional bandmates, drummer Sam Earnshaw with his electronic DrumKat,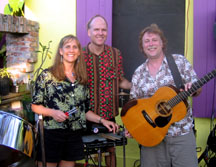 and the multi-talented Mary Knysh with her vocals, flute or steel drum. These mixes were gleaned from shows performed at popular island venues like Cinnamon Bay, Maho Bay, Miss Lucy's, Aqua Bistro and The Banana Deck.  Other songs were recorded inside my little green Shackteau in Coral Bay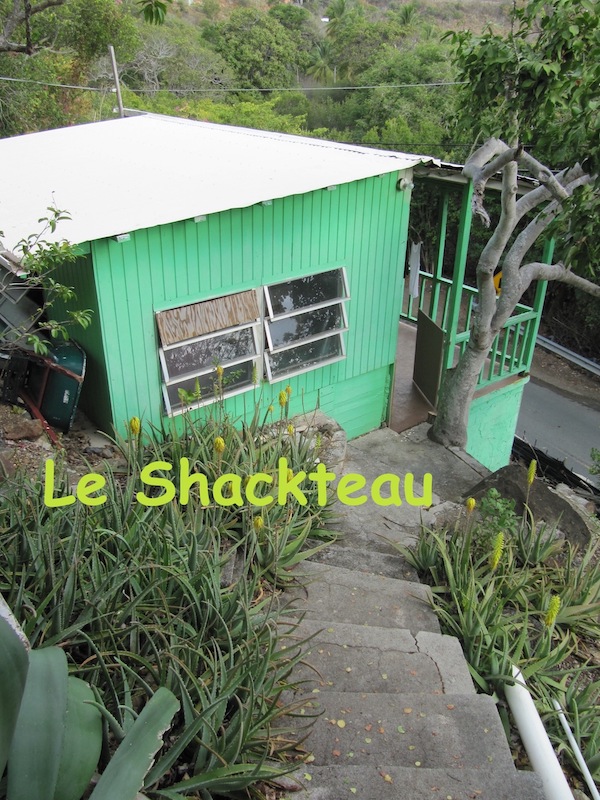 onto my computer with me singing and playing all the parts. Mesmerized by the island's indigenous quelbe, or scratch band style, these shack recordings were played upon a tiny banjo-uke, with the occasional harmonica joining in. I added percussion instruments that I made from 'found' objects scrounged from around the island. I even used my louvered wooden door as a guiro!  It occurred to me while listening to these old recordings that some of them were actually quite fun and percolated with a Caribe-island vibe. "What if," I thought, "I selected an interesting variety of these tunes, added a few parts – like perhaps bass, different percussion, harmony vocals, conch shell & whistles –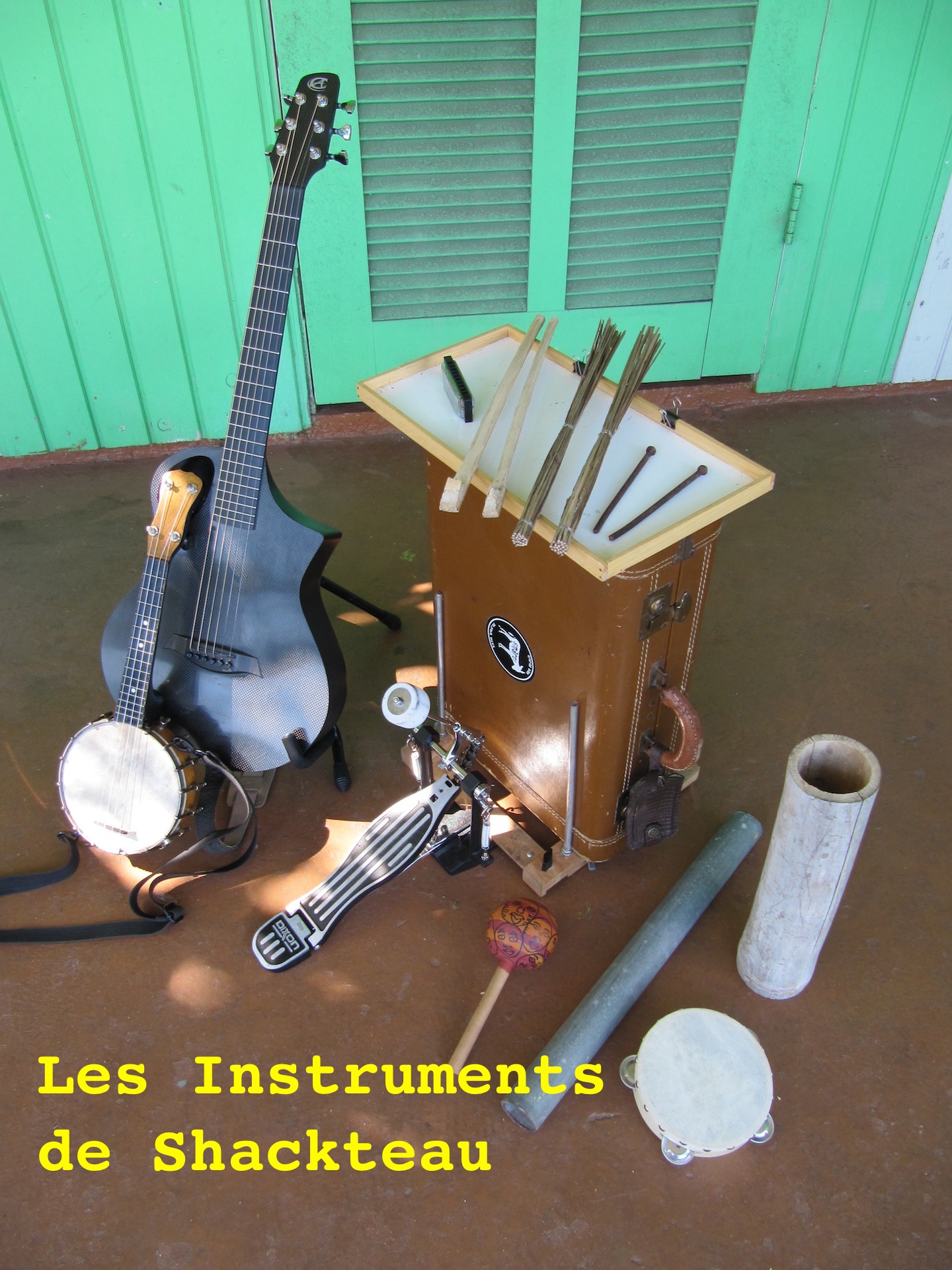 and then remixed it into my island anthology of sorts?  "That would be very cool - and I'd cure my creative drought! Just do it!
So I dove in. I listened to hours of material, selected eleven songs and went to work. I used the original recordings as the core and built the arrangements from that. To some I spent hours and hours adding the aforementioned instrument and vocal tracks. To others, I just left 'em alone, other than a bit o' wee tweaking to the mix. My archival foraging also unearthed a sound track of night sounds that I had made one evening while camping at Cinnamon Bay. You can hear a gentle wind, crickets and the occasional frog. "Now," I thought, "THIS would make the ideal continuo background throughout the entire album! Excelsior!" And so, I present to you, Postcard from the Islands!
Because most of today's recorded music is sold as downloads and streams, vinyl record and CD jacket art have largely gone the way of the dodo. I miss it. So much so that I did have Postcard from the Islands manufactured in a very limited number of physical CDs. Because the surface area of a CD sleeve is not ideal for portraying much art or descriptive content, I've decided to write what might have been at one time considered to be album liner notes here.
Note: Earlier I said I'd chosen eleven songs, but there are only ten on this album. I ran into considerably difficult, and expensive, international copyright and licensing issues with one song so I abandoned it. But, hey, if Postcard from the Islands sells well, I'll be able to afford to release that one too! The following are insights into each of the songs that did make it!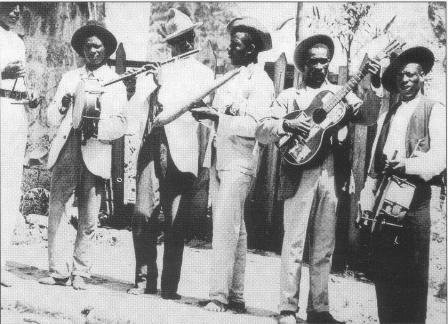 Gimme da T'ing - I first heard this humorous calypso by Trinidadian Lord Kitchener played by one of my favorite guitar heroes, David Lindley and his band El-Rayo X, back in the '90s. As soon as I heard it, I knew I had to learn it and I've been playing it since. I'd been gigging in the USVI since 1994 and had fallen in love with Caribbean reggae, calypso, soca and the scratch band music from the USVI called quelbe. Dunno, but I think this sounds an awful lot like "Coral Bay" - an old-island settlement on the east side of St. John - said in a clipped West Indian accent. In this version, Sam and I hold it down, he with his DrumKat and me with my 6-string banjo and harmonica. This one was recorded during a show at Cinnamon Bay. I added bass and percussion in my home studio this year.
Caribbean Wind – This is one of my original songs, also recorded live at Cinnamon Bay by Sam and me (acoustic guitar). In short, it's about someone who's spent their life toiling under the "camoflage skies" of a souless job. For what, exactly? Eventually the realization dawns that it's not too late to follow the "Caribbean wind" to one's bliss. Or something like that. I added bass and an Old Elk whiskey bottle bell and rice-filled pill bottle container shakers to the mix.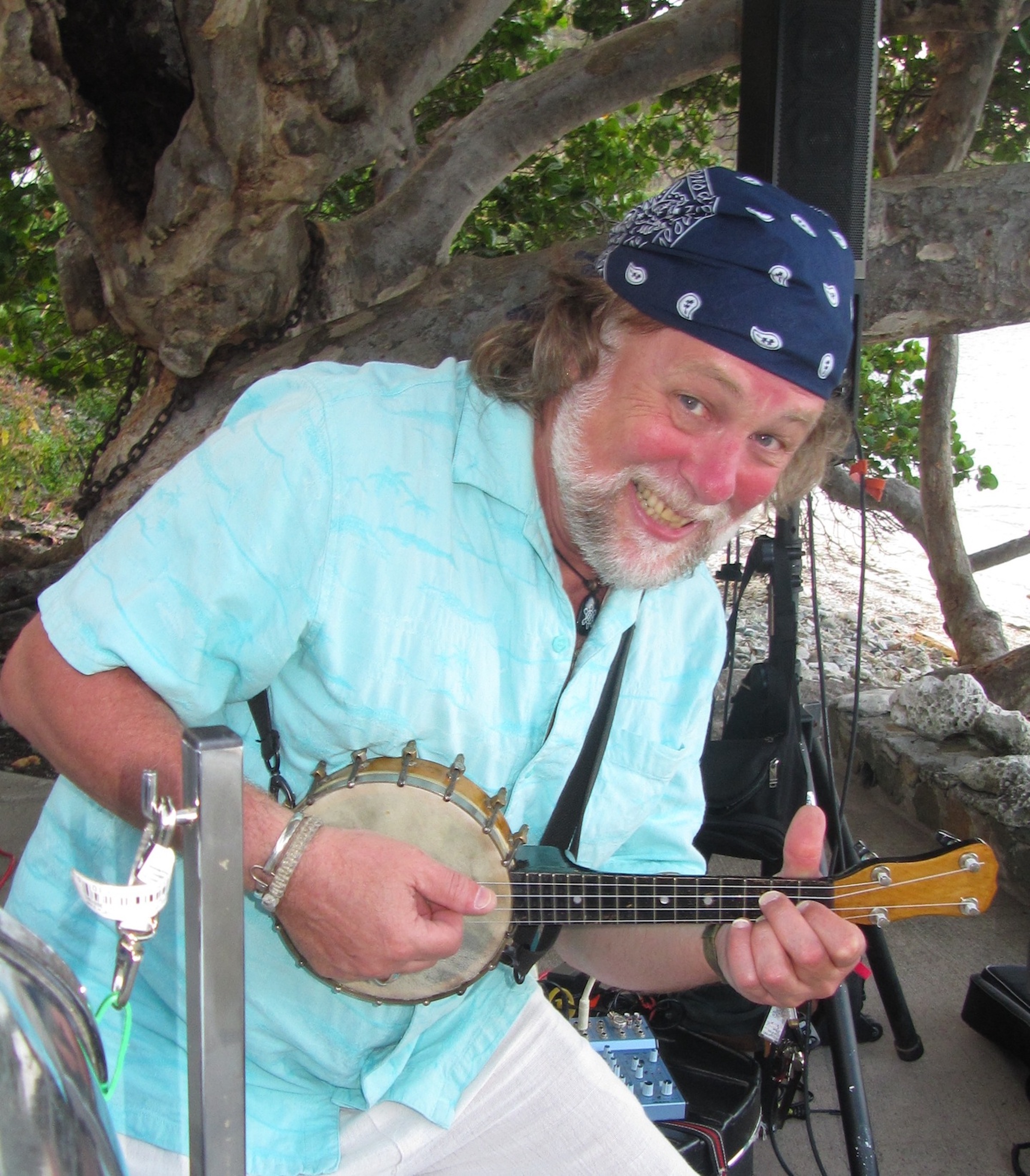 One Love – I hope Bob Marley would be proud to hear a quelbe interpretation of his reggae classic hit! This was recorded in the tiny green Coral Bay Shackteau. You can hear the banjo-uke in all it's glory in this one. I added bass and a four-part vocal choir! There's a large spike hitting a length of metal pipe for the clanging bell – or 'irons' as they're called in the islands. A small coconut filled with popcorn seeds made a proper shaker while a length of bamboo I found floating in the bay provided a serviceable clave. There's even a tiny tambourine I scored at a local flea market. Thanks & praise, Bob!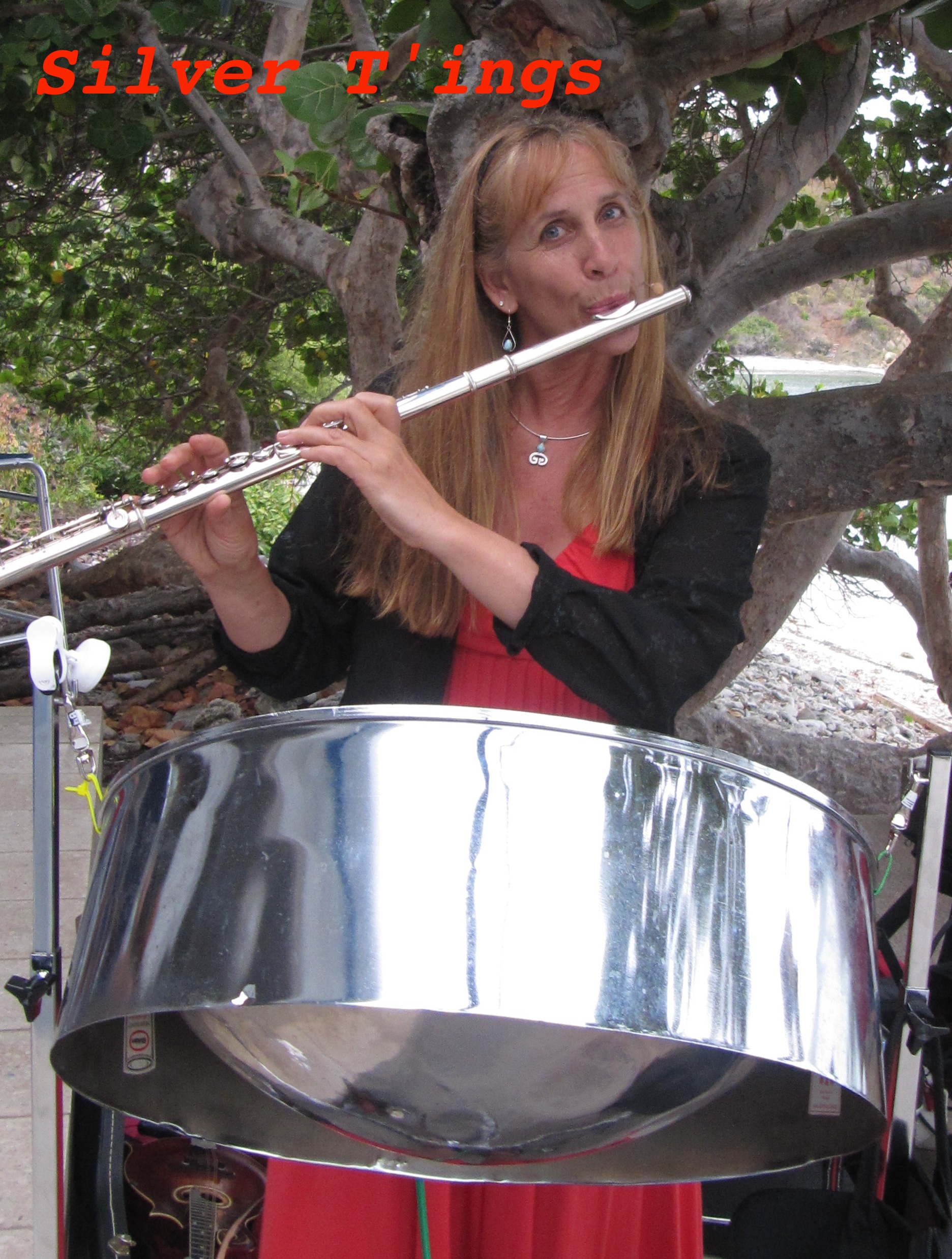 Haul 'Em Joe, or Me Donkey Wan' Watah - Here's a little old folksong from Barbados that Mary Knysh taught me. She sings and plays steel drum. I strum the ol' banjo-uke in the quelbe style. You can hear the bamboo sticks clip-clopping the donkey's hoof-steps and the whiskey bottle bell makes its return as does a cigar box bass guitar. Donkeys are all over the place on the islands and the USVI is no exception. I recorded this braying guy outside my shack one morning as he and his crew were obstenately blocking traffic. You can hear somebody shouting at him, too. Maybe if they had given the donkey some watah it would have gone more smoothly?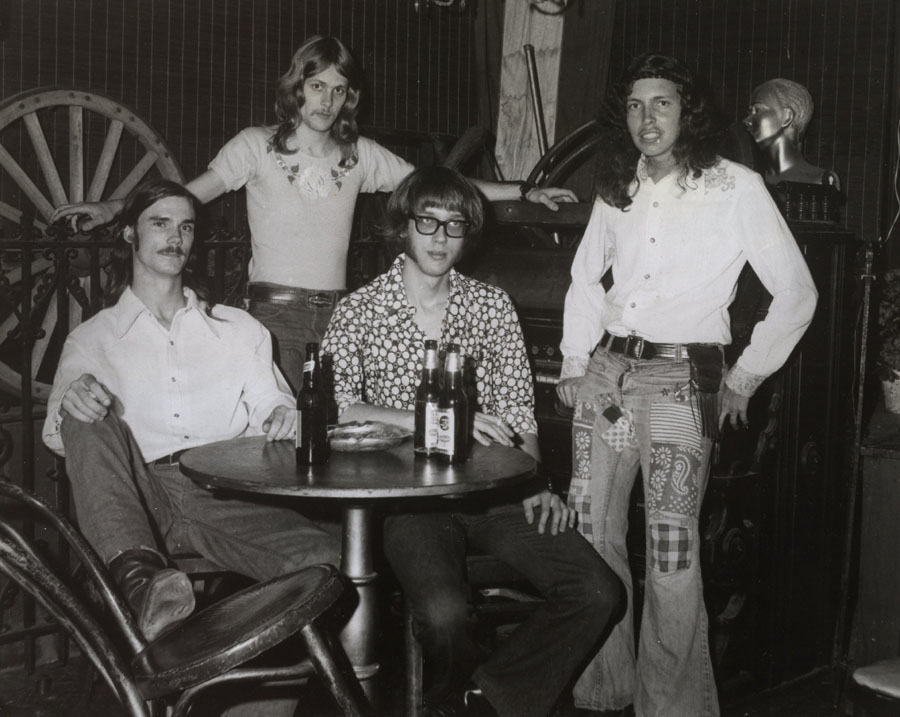 Crystal Clear – Here's an original song I worked out with John Rider in the early '70s as we were beginning the venture that was to become the renown jam-band legend, Max Creek. We were brass instrument majors at a college conservatory, but were enamored with American folk music and were each learning to play guitar and bass and trying out our songwriting skills – Crystal Clear may very well be the first effort! Our original Max Creek version was more in a country-rock style, but I decided to make it a scratch band song with the banjo-uke as the lead instrument. Recorded in the Shackteau, I added the vocal harmonies, cigar box bass, steel pipe & spike, coconut shaker, bamboo sticks on the tambourine, suitcase bass drum, and a harmonica. Peace shall be within you!
Walkin' with Chet – Here's another original song, but it has no words. It started out as a solo acoustic guitar piece after I imagined guitarist Chet Atkins walking around a vibrant township neighborhood in Soweto, South Africa taking in the inspiring sounds. I lay the track down at the Shackteau. Then I thought, well, maybe it could have been trumpeter Chet Baker doing the same thing? So I got out my old trumpet and lay down another track. Listening back, I could hear a second horn part, sort of like Herb Alpert in Soweto. So I lay down another trumpet track. If it was supposed to sound African, it had better have some drums. You know what I did - BOOM! Congas, claves, shakers and a snare drum makes its debut! I then added an electric guitar in the 'township style' and some street crowd noises. My best township jive, just for you!
Talkin' 'bout Revolution – This hit for Tracy Chapman was recorded by Sam, Mary and me at The Banana Deck in Cruz Bay, St. John sometime during the winter of 2007. I'm playing my six-string banjo, harmonica and singing lead – with a few made up verses that were politically relevant at the time. Mary is playing her flute and singing counter-harmony while Sam lays it down with his DrumKat. I added the pill bottle shaker and bass lines this winter! Somewhere near the start of the song, a baby in the crowd offers a cry of approval, or ???
Johnny B. Goode – Not entirely sure where this one was recorded, but it was likely at Miss Lucy's(?) by Sam and me. I had heard Peter Tosh's reggae version of this classic Chuck Berry song, so I reimagined it as if Chuck, Peter and Doc Watson sat down and enjoyed a pate, Red Stripe and perhaps a spliff and jammed on it. This is what I got. I later added harmonica, electric bass and pill bottle shaker to the mix. It came out as sort of a reggae/swing tune, methinks.
Carousel – Another original song. I wrote it sometime in the late '70s, a particularly difficult and transitory time for me personally with lots of death and loss. It's a sad, unrequited love song of sorts with lyrics taken from a letter written to me by a lost, heart-broken college friend. Sam and I lay down simple, folksong-like tracks for the verses, but the chorus transitions into a reggae groove as the bass propels it forward. I added the pill bottle shaker for auxiliary instrumentation, and truly delighted in creating the other-worldly counter-tenor vocals to the verses and chorus. Tres ethereal!
Lion's Lullaby – I originally wrote this one on my six-string banjo while hanging around alone at my campsite on Cinnamon Bay one sleepy afternoon. The banjo sounded almost like a Baroque harpsichord...not very Caribbean island at all! I don't know who I was channeling at the time – some rasafarian Handel perhaps - but as it was written on St. John, I included it here on Postcard. For this recording, I switched over to guitar and asked Mary to contribute a second guitar part. Voila...a relaxing little ditty that ought to put any lion to sleep!
     Hope you'll enjoy this li'l trip to the islands!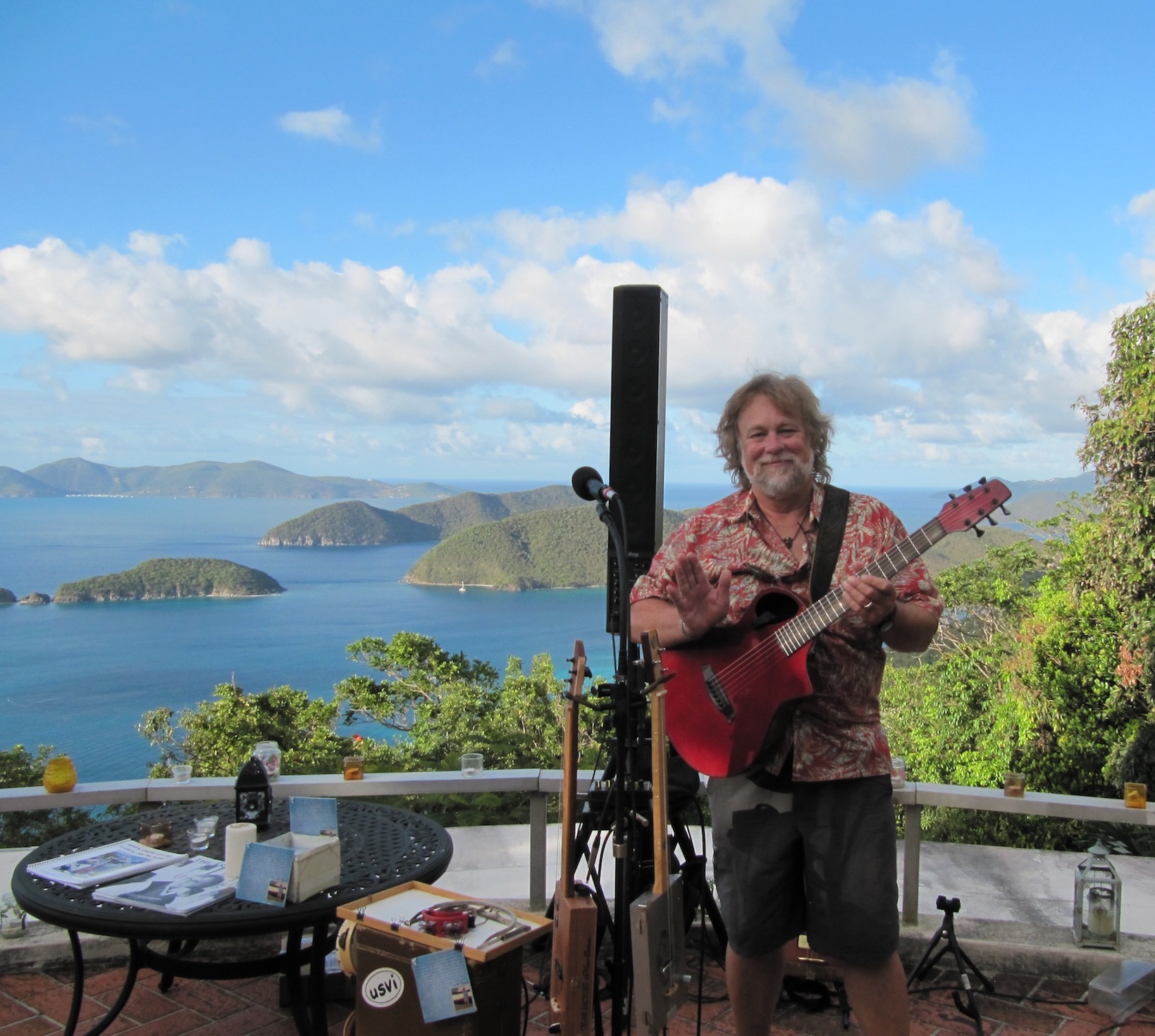 https://davidreed.hearnow.com/postcard-from-the-islands